Jet Wheelchairs by Pride
Jazzy Electric Wheelchairs
by
Pride Mobility
1103 Ultra The Electric Wheelchair Jazzy 1103 Ultra by Pride Mobility brings sporty style and high performance features, like a standard power Elevating Seat and Active Tract Suspension, together into one perfectly balanced power chair. Yet, even fully loaded, the Electric Wheelchair Jazzy 1103 Ultra remains highly compact and maneuverable. MSRP: 5595.00 - Your Cost: 4160.00
1113 The Electric Wheelchair Jazzy 1113 ATS by Pride Mobility offers you everything you need -- all of the "big chair" options and accessories, You'll take on tight spaces and narrow hallways without sacrificing a strong outdoor performance never before seen in a Electric Wheelchair of this size. MSRP: 5200.00 - Your Cost: 4160.00
1122 At first glance, the Electric Wheelchair Jazzy 1122 by Pride Mobility catches your eye with its sleek styling and sporty edge. Yet, the Jazzy 1122 is so much more. The Jazzy 1122 features standard Active-Trac Suspension and rear caster suspension and a high-speed/high-torque motor package that allows an optimal speed of 6 mph and a weight capacity of 300 lbs. In addition to these impressive performance-enhancing features, the Jazzy 1122 also offers easy battery access through the front of the chair without the removal of the shroud or seating system and a height and depth-adjustable solid foot platform. The Electric Wheelchair Jazzy 1122 is truly the most advanced power chair available today! MSRP: 5530.00 - Your Cost 3871.00
1170 XL The Electric Wheelchair Jazzy 1170 XL by Pride Mobility is a stylish, high performance power chair that combines excellent indoor maneuverability with larger motors and a longer frame to allow for a 30% increase in torque, a top speed of 6 mph and a 400 lb. Weight capacity. The Jazzy 1170 XL comes standard with Active-Trac Suspension which provides for great outdoor performance and rough terrain handling. The Electric Wheelchair Jazzy 1170 XL is the ultimate power chair for the active outdoor user who still requires tight-quarter maneuverability. MSRP: 5965.00 Your Cost: 4176.00
Jazzy Electric Wheelchairs
Jazzy 1103
Jazzy 1113
Jazzy 1121
Jazzy 1122
Jazzy 1133
Pride Electric Wheelchair Select The Jazzy Select is Pride's #1 selling power chair and is packed with great features. It uses two in-line motors, to provide excellent range and acceleration . The Active Trac Suspension ensures that the ride will be smooth over most terrains and it is very maneuverable, making it an excellent choice for indoor use.
Pride Electric Wheelchair Select 6
The Pride Jazzy Select 6 is modeled after Pride Mobility's Jazzy Select Power Chair, which is their best selling model.
The Jazzy Electric Wheelchair Select 6 has dual in-line motors, which helps to provide excellent range and acceleration. The sleek narrow frame makes it great for indoor use and The Active-Trac suspension provides a smooth ride..
Pride Mobility's New Jazzy Electric Wheelchair 600
Jazzy 600 delivers performance and maximum stability through the use of ATX-Active Trac Suspension with Extra Stability. The front casters of the Jazzy 600 remain on the ground at all times and their unique shape allows for smooth terrain transitions regardless of the angle of approach. The Jazzy 600 meets the needs of those who want Maximum Stability.
This
Jazzy Electric Wheelchair 1115
makes Transportion a snap with an easy-to-
disassemble frame
. The
Jazzy Electric Wheelchair 1115
conveniently breaks down to only
seven
pieces without sacrificing even one of the Jazzy's most sought after performance traits.
Disassembles
into 7 easy-to-transport pieces heaviest piece only weighs 36 lbs. The Jazzy 1115 is the ultimate high performance transportable power chair. The
Jazzy 1115's
patented mid-wheel design provides a smooth and comfortable ride, superb maneuverability, and outstanding handling and control.
The Jazzy Electric Wheelchair 1101 Combines Outstanding Performance with Sleek Design. Equipped with an Articulating Rear Caster Beam, Patented Resilent Front Anti-Tip Wheels, and a Top Speed of 5 mph. This Jazzy is ready to Conquer all of your outdoor Challenges.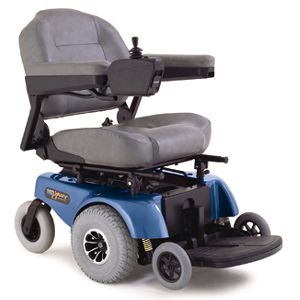 The Jazzy Electric Wheelchair 1113 ATS by Pride Mobility. Jazzy 1113 offers you everything you need -- all of the "big chair" options and accessories, You'll take on tight spaces and narrow hallways without sacrificing a strong outdoor performance never before seen in a Electric Wheelchair of this size. MSRP: 5200.00 - Your Cost: 4160.00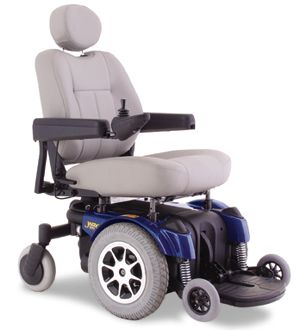 The Jazzy combines outstanding performance with a sleek design. The Jazzy 1121 (with Active-Trac Suspension) utilizes Pride's patented mid-wheel drive technology and an overall length of only 38.5" for great tight space indoor maneuverability and a turning radius of only 20.5" Equipped with an articulating rear caster beam, patented resilient front anti-tip wheels, Active-Trac Suspension, and a top speed of 5 mph, the Electric Wheelchair Jazzy1121 is ready to conquer all of your daily challenges. MSRP: 5325.00 - Your Cost: 4260.00
At first glance, the Jazzy Electric Wheelchair 1122 by Pride Mobility catches your eye with its sleek styling and sporty edge. Yet, the Jazzy 1122 is so much more. The Jazzy 1122 features standard Active-Trac Suspension and rear caster suspension and a high-speed/high-torque motor package that allows an optimal speed of 6 mph and a weight capacity of 300 lbs. In addition to these impressive performance-enhancing features, the Jazzy 1122 also offers easy battery access through the front of the chair without the removal of the shroud or seating system and a height and depth-adjustable solid foot platform. The Electric Wheelchair Jazzy 1122 is truly the most advanced power chair available today! MSRP: 5530.00 - Your Cost 3871.00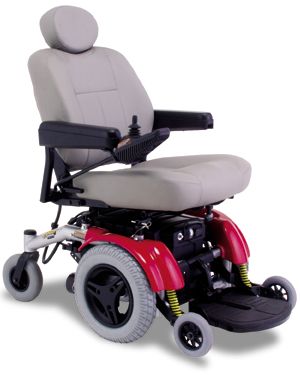 The Jazzy Electric Wheelchair 1133 by Pride Mobility delivers the benefit of easy transport, disassembling into five manageable base pieces. Plus, the Jazzy 1133 offers sporty, unique styling and high performance with standard Active-Trac Suspension -- a true innovation in the world of full size, transportable power chairs. Quite simply put, the Electric Wheelchair Jazzy 1133 is the perfect take-along power chair choice for active folks on the go! MSRP: 5495.00 - Your Cost: 3847.00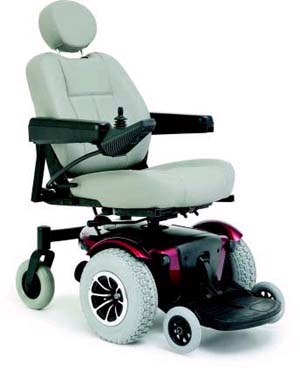 with Enhanced Outdoor Capabilities. The standard power elevating seat provides greater access to objects out of reach. The 12 Inch Drive Wheels offer enhanced Outdoor Performance while its mid-wheel drive maneuverability make this power chair perfect for navigating indoors in tight spaces.
The Jazzy Electric Wheelchair 1170 XL by Pride Mobility is a stylish, high performance power chair that combines excellent indoor maneuverability with larger motors and a longer frame to allow for a 30% increase in torque, a top speed of 6 mph and a 400 lb. Weight capacity. The Jazzy 1170 XL comes standard with Active-Trac Suspension which provides for great outdoor performance and rough terrain handling. The Electric Wheelchair Jazzy 1170 XL is the ultimate power chair for the active outdoor user who still requires tight-quarter maneuverability. MSRP: 5965.00 Your Cost: 4176.00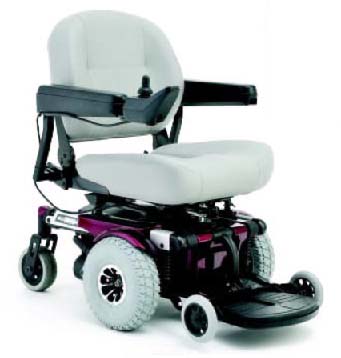 The Jazzy Electric Wheelchair 1107 by Pride Mobility Disassembles into Manageable Pieces.Weight capacity of 300 pounds. Standard Pride 60-amp Controller, Active Trac Suspension and Rear Independent Suspension for Outstanding Indoor and Outdoor Performance. The unique direct connect design of the Jazzy Electric Wheelchair 1107 eliminates battery and motor wiring harnesses, a true innovation. Because of these connections and the absence of wiring harnesses, assembly and disassembly are quick and easy.
This Bariatric Jazzy Electric Wheelchair 1650 is made for the larger people with a Weight Capacity of 650 LBS. Heavy-duty construction and performance components including Upgraded Motors, a Reinforced Frame, Enhanced Springs on the front, Anti-Tip Wheels, and the use of two 70-Amp Hour Batteries. The Jazzy Electric Wheelchair 1650 delivers style, high performance and Superior Maneuverability.
Welcome to M1 Medical An Authorized Provider for Pride Mobility Products such as Jazzy Electric Wheelchairs, Pride Electric Scooters, Pride Lift Chairs, and Wheelchair lifts. We carry Wheelchairs Made by The Best Wheelchair Manufacture that meets ISO 9000 Requirements. Every Electric Wheelchair on our site includes Free Shipping, Inside Delivery, and Setup, and a full one year in home service contract. In addition to Power wheelchairs by Pride Mobility we carry Manual Wheelchairs, Ultralight Wheelchairs and Lightweight Wheelchairs. We Also have Rolling Walkers and many other Mobility Products.
Make Us Your First Choice in Mobility.
Raleigh, NC
27609